(About the author: Kristen Glazer is a Minnesota-based travel writer behind the Expedition Kristen blog (and @expeditionkristen Instagram account). See the original blog here. See more of her work here. All photos provided by Kristen Glazer @expeditionkristen)
I recently took a trip to Vilas County in northern Wisconsin, and Ironwood, Michigan, which is located in the Upper Peninsula. This was my first time visiting this region, and I'm so grateful I got to see this part of the Midwest. While many of the places I visited were in remote areas, there were so many coffee shops, restaurants, breweries, wine bars, beautiful parks, and kind people.
Pro tip: Before heading to Vilas County in northern Wisconsin, download the Map It Vilas Co. app. It's great for locals and first-time visitors alike because you can filter by distance, location, and more, finding the perfect hike for your preferences. The app will also track you on your hikes so you can always check to see where you are on the trails.
Vilas County and Ironwood, Michigan invited me on this trip. All thoughts and opinions are my own.
1. Minocqua, Wisconsin
Minocqua is a much bigger town than I was expecting. Known as the Island City, because Minocqua is almost completely surrounded by water, this quaint downtown is bustling! Wherever you go in the downtown area, you are only a few steps from stunning views of Minocqua Lake. You can easily spend one packed day exploring Minocqua, or a full weekend, visiting many of the restaurants, shops, candy stores, wine bars, and coffee shops here.
Grab coffee at Northern Coffee Traders
Located in the heart of town, this coffee shop offers chai tea, coffee, lattes, and cookies. Sit inside their cute space, or take it to go and bring it across the street to the lake. You'll find country music playing and a bustling environment of locals.
Visit the unique shops in town
There are so many great shops packed into downtown Minocqua. Walk around and you'll discover something to meet your interests. Some of my favorites are:
The Loon, for Northwoods-themed gifts
Imaginuity, for toys, puzzles, and games
Monkey Business, for any kind of t-shirt design you can dream of
A Step Up, for books, gifts, and home décor
Sallets Northwoods Outfitters, for gear and clothing for outdoor enthusiasts
Get your sweet tooth fix
You'll find four great places in Minocqua to get sweet treats: Dan's Minocqua Fudge, Kilwin's Minocqua Candy Store, Bosacki's Chocolate, and Boardwalk Ice Cream and Fudge. All located in the heart of town, you'll be able to easily find whatever it is you're craving at one of these spots!
Get lunch at Monical's Pizza
This chain pizza spot has several locations around the Midwest with the first one opening up in Illinois in 1959. Prices are dirt cheap and the service is excellent. We only waited a few minutes before our pizza came out piping hot, and the pepperoni was savory! There is no outdoor space, but they do have great views of Arrowhead Lake from inside the restaurant.
Enjoy a quiet walk on the Bearskin State Trail
The Bearskin State Trail was truly the highlight of our time in Minocqua, probably because we most enjoyed spending time outside and the weather was wonderful. The trail begins as a short walk across an old railroad bridge and turns into a wood trail. On the other side of the bridge, you'll find lodges and homes, and incredible views of the lake. It continues into Bearskin State Park and goes on for 18 miles. Many people were biking and dogs are also allowed. Whether you have your bike or are on foot, the views are worth the visit.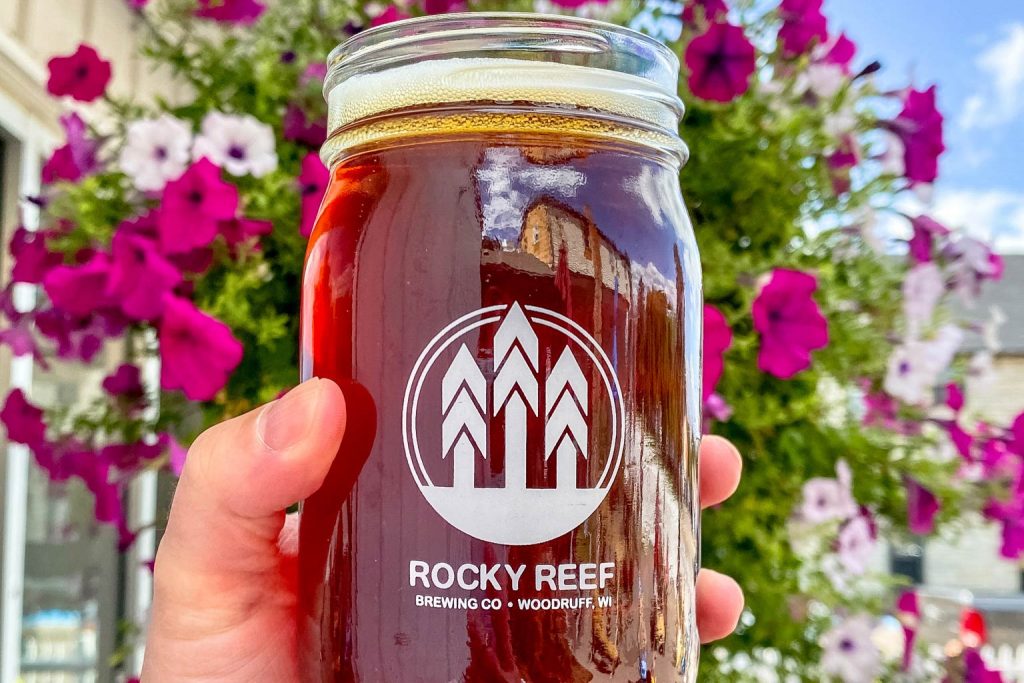 Grab a beer at Rocky Reef Brewing
Rocky Reef is a fun spot just outside downtown Minocqua. They'll serve you beer in a mason jar, then find a spot in the cozy indoor space with TVs, or outside on the large sunny patio. They have a great variety of beer too. I most enjoyed the Big Red Hen, a red amber and Staycation, a blonde ale.
2. Boulder Junction, Wisconsin
Boulder Junction is just twenty minutes north of Minocqua. It's a bit smaller but has a similar charm to it. With so many cute stores, a handful of restaurants, and an excellent ice cream shop, this is a great place to visit while in Vilas County and northern Wisconsin.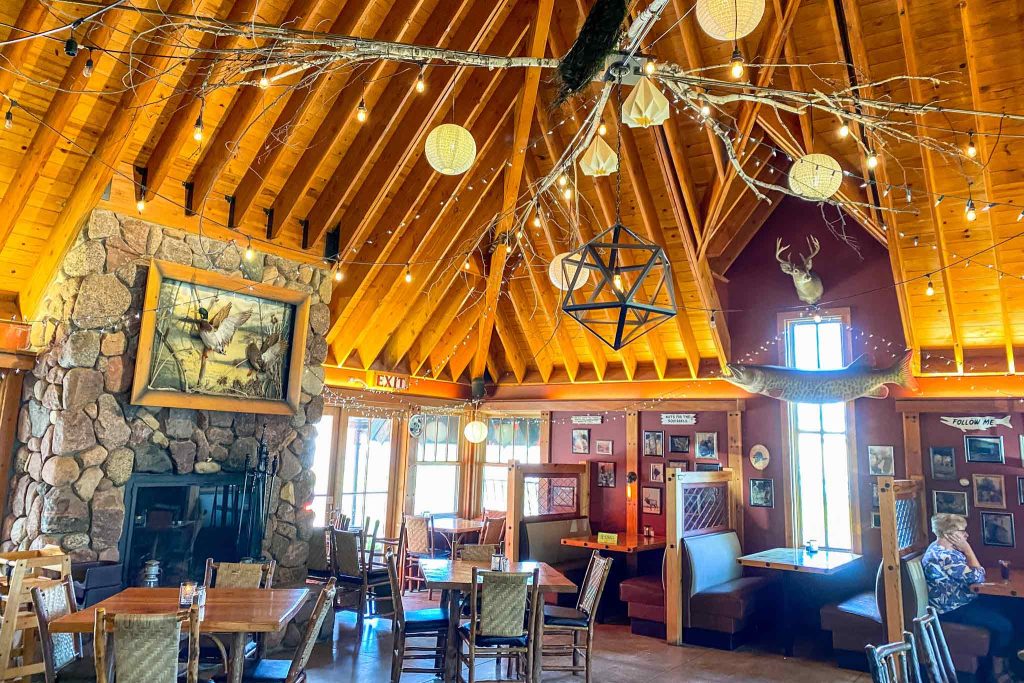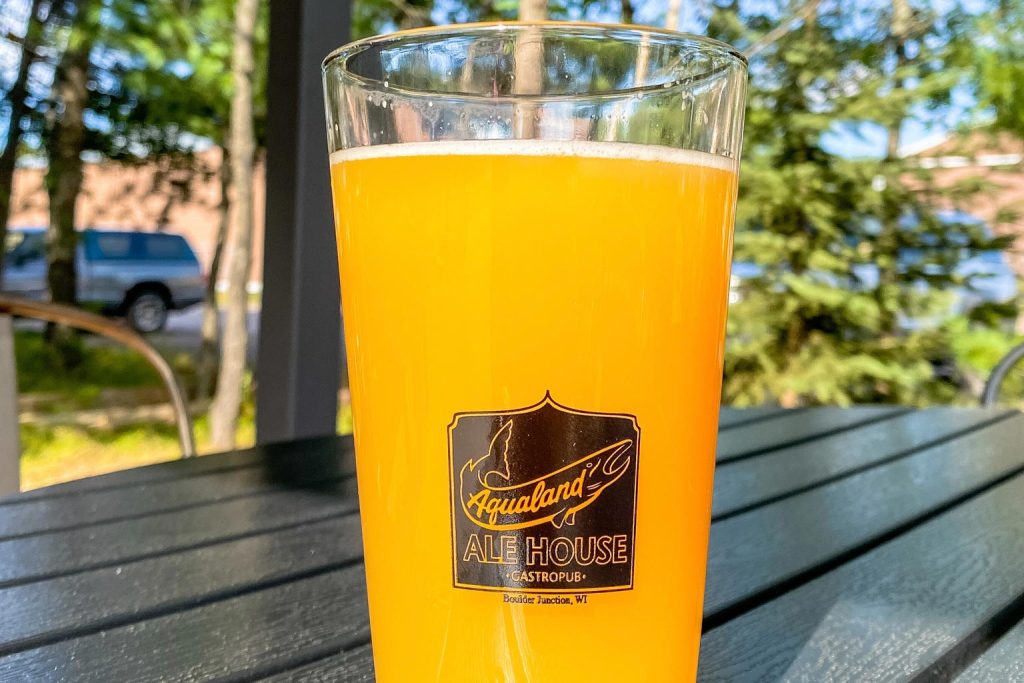 Grab a drink at Aqualand Ale House
Aqualand Ale House is an excellent spot for a meal, or stop by for a drink. Sit inside their very cozy Northwoods inspired indoor space with exposed wood, a stone fireplace, and a large bar. Or check out the outdoor patio, which is decorated with string lights and surrounded by trees.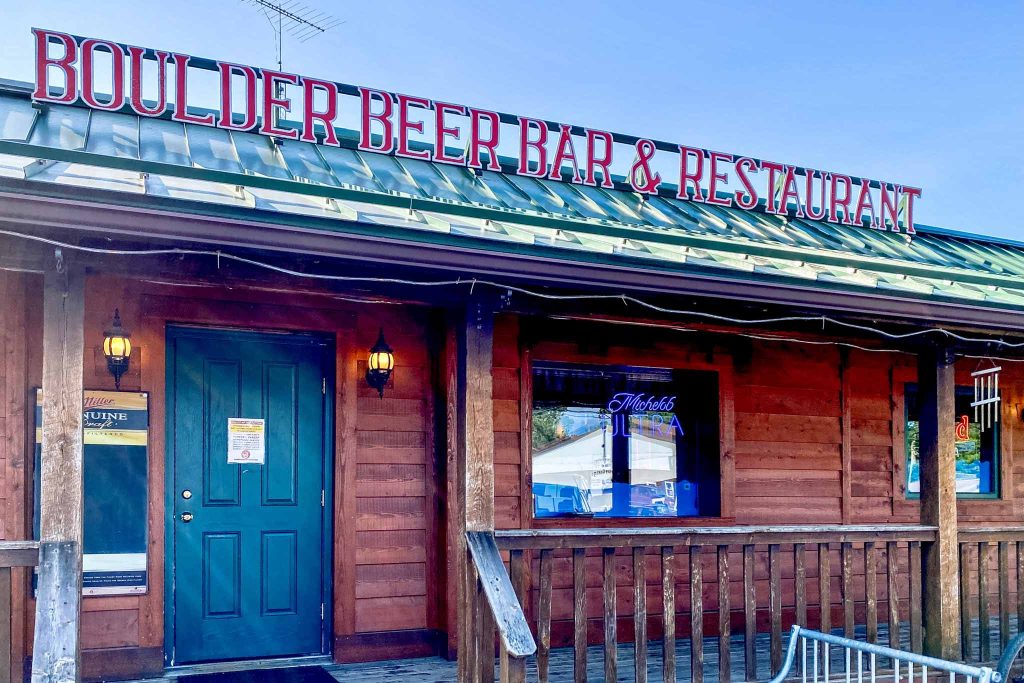 Enjoy a meal at Boulder Beer Bar
This small spot may not look like much from the outside, but the environment is very inviting once inside. Sit by the bar, or grab a large table. The beer and food are really cheap and are served very quickly! You'll find all the comfort foods here, like pizza, sandwiches, and burgers.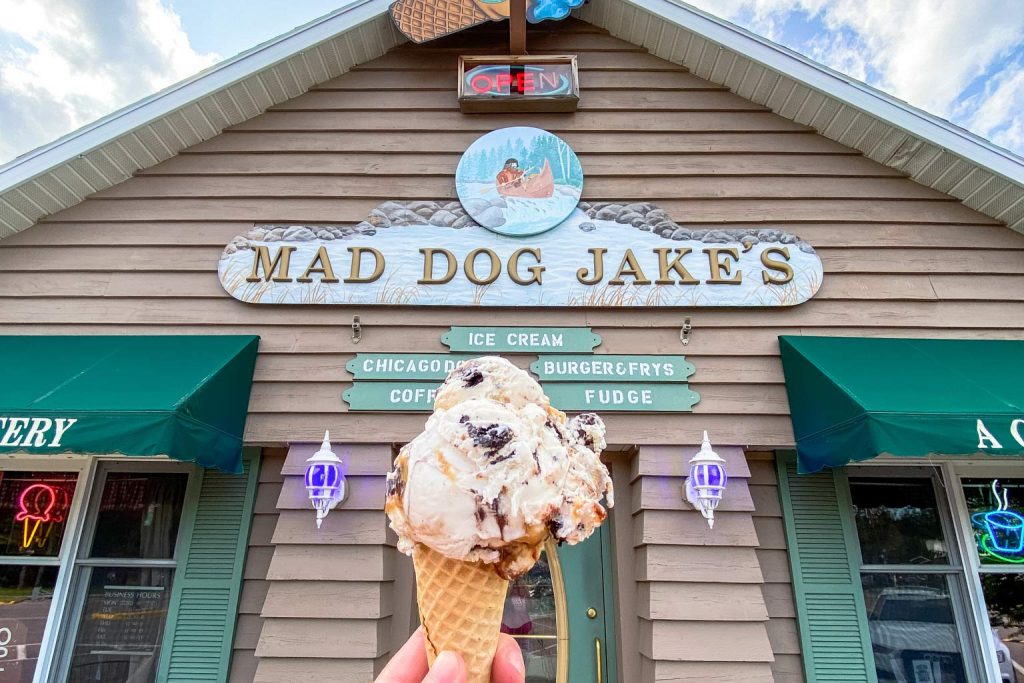 Get your sweet tooth fix at Mad Dog Jake's
This tiny little ice cream shop has a massive selection of ice cream flavors! And pro-tip, one scoop is more like two generous scoops! The ice cream was so yummy and so inexpensive. Grab a cone and enjoy it while you walk around the downtown area. It's the perfect after-dinner treat.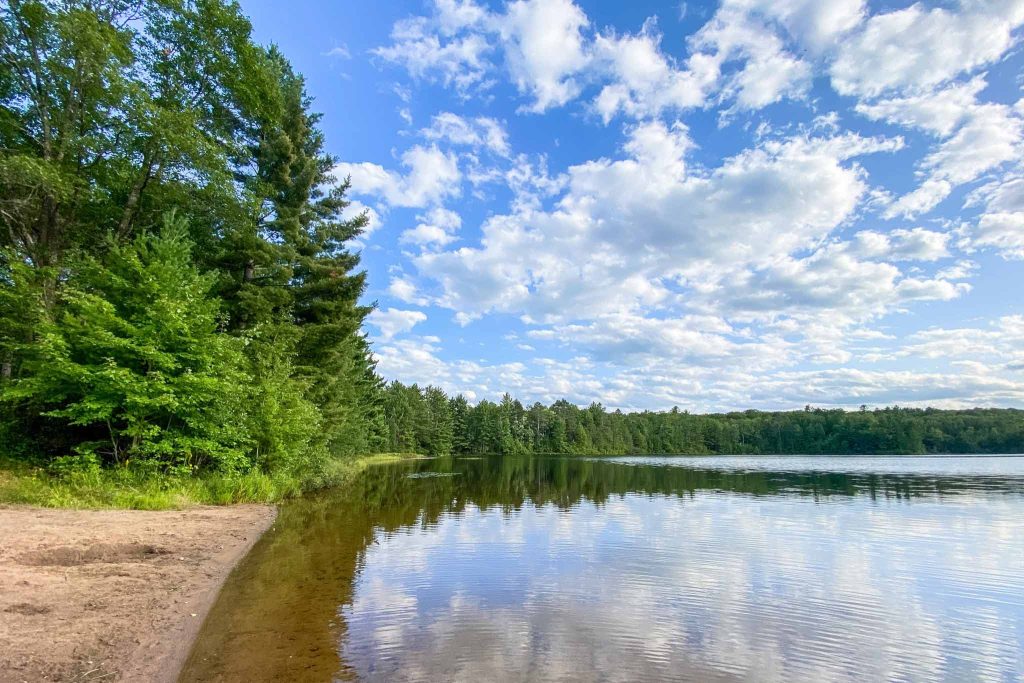 Go for a swim at Nichols Lake
Nichols Lake is a short drive from downtown Boulder Junction. When we visited, we were the only ones there. The water was so still and clear. Wade along the shoreline, or go for a swim. The lake is densely surrounded by trees and there are picnic tables on the large grassy area.
3. Manitowish Waters, Wisconsin
Manitowish Waters is smaller than Minocqua and Boulder Junction but there's still plenty to do in this fun little town. With a lakefront coffee shop, tons of restaurants, shops, a brewery, and great hiking spread out across the town you just have to know where to look.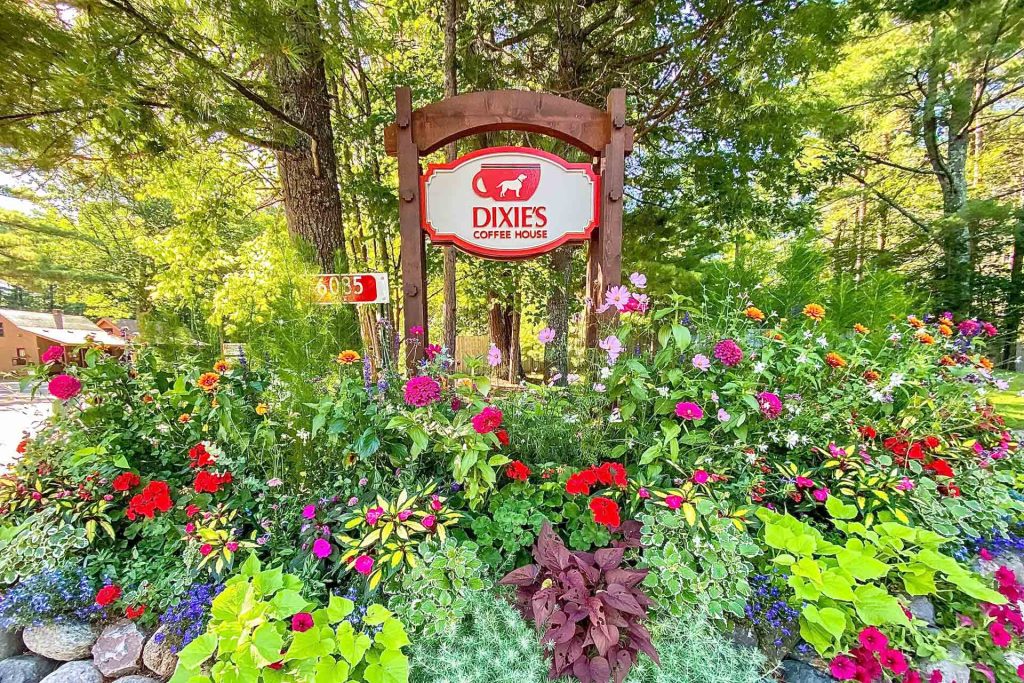 Enjoy lakefront coffee at Dixie's
Dixie's Coffee is a true gem. The parking lot is surrounded by beautiful gardens, setting the tone for this relaxing space. Inside the coffee shop, you'll find an A-frame-styled building with floor-to-ceiling windows overlooking a lake. There is a fireplace with bright red chairs. Even the bathrooms are clean, bright, and thoughtfully decorated. If you prefer to go outside, you can enjoy the large deck, or walk down to the dock to sip your coffee lakeside. They have a great selection of breakfast sandwiches and sweet treats to accompany your beverage.
Check out the upscale boutiques
Manitowish Waters doesn't have a typical main street, however, there are two very cute and upscale boutiques next to each other, just down the road from Dixie's Coffee. At The Lake House, you'll find Northwoods inspired pillows, coasters, wine glasses, and home décor. And right next door at To the Nines, you'll find jewelry, clothing, serving platters, salsa, and sauces.
Unwind at Some Nerve Brewing
A short distance from the heart of town is Some Nerve Brewing. You'll need to drive to it as it's not within walking distance of the shops. This popular tap house has a laid-back vibe and a great beer selection. Sit inside their cozy space, or find a spot outside at a picnic table.
Swim at the town beach
Frank B. Koller Memorial Park is open to the public and totally free. You'll find kids swimming and people enjoying lakefront picnics. The water quality is incredible and the sandy beach makes this spot a real gem right in the heart of town.
Hike at WinMan Trails
Located just a short drive from Manitowish Waters, you'll find WinMan Trails to be very popular hiking and biking spot. There are at least a dozen different trails to choose from, so you can really find the length and difficulty you're looking for. You'll find trails for hiking and mountain biking, and in the winter there are trails designated for cross country skiing, snowshoeing, and snowmobiling. There were a ton of families out biking when we visited!
4. Ironwood, Michigan
Michigan's Upper Peninsula is a true Midwest gem. My trip to Ironwood was my very first time to the Upper Peninsula, and it was really incredible. With a handful of restaurants, bakeries, and small shops, plus access to great hiking and skiing, there's so much to pack into a trip to Ironwood, Michigan!
Relax at Contrast Coffee
Contrast Coffee is an adorable coffee shop located in downtown Ironwood. The baristas are so friendly and the indoor space is beautifully decorated with hanging lights, cozy chairs, and pretty artwork. They also have a small outdoor patio with a large butterfly mural. I had a hot cup of coffee with an egg and sausage sandwich. It was made fresh right in front of me, and I definitely recommend it!
Take a Stormy Kromer factory tour
The iconic Stormy Kromer hats are made right here in Ironwood, Michigan! A very unique thing to do in Ironwood is to visit the Stormy Kromer store and warehouse to shop or sign up for the free factory tour.
This hat style was invented by Ida Kromer and her husband George "Stormy" Kromer, who was frustrated with freezing cold Wisconsin winters. His baseball caps would often blow off in the wind and his ears were always cold. Ida had an idea for a unique hat style in 1903 to help keep him warm, plus she shortened the brim so it wouldn't fly off so easily. That hat, what we now call the Stormy Kromer, is super popular in the Midwest, and practical! Many people in the cold Midwest states still own and wear Stormy Kromer hats today.
Enjoy the downtown shopping
There are a handful of great shops in downtown Ironwood. You'll find an antique store, a thrift shop, a boutique or two, and a heavy Northwoods theme throughout all of them. Some of my favorites are:
Ben Franklin, a variety store with awesome gift items, like mugs and Christmas ornaments
European Treats, a gourmet grocery store with European products
New Beginning's Resale Store for thrift shop clothing and home décor
Superior Holistics & Boutiques, for consignment items
Grab lunch at Uptown Café
This sweet little café will make you feel like you're going back in time. The smell of coffee wafts by as soon as you walk in. Everyone seems to know everybody's name here and it's clear this spot is loved by locals. I had a grilled chicken club with crispy bacon, plus chips and a pickle on the side.
Relax at Cold Iron Brewery
Cold Iron Brewery is the spot to be in Ironwood! Located in the heart of downtown, the Northwoods-themed taproom is spacious and offers free popcorn, plenty of games, and live music in addition to great beer. I tried the Michicosin Honey Cream and loved it. It was a great way to spend the afternoon!
Visit Brewster's Northwoods for dinner
You can't go into the Northwoods without visiting this local bar. Brewster's Northwoods Bar is everything you'd expect: chainsaws hanging from the ceiling, fishing poles on the walls, friendly waitstaff, and great food! I ordered a burger with chips and it was really delicious and juicy!
Grab an ice cream cone
If you're looking for a sweet way to end the day, stop by Plums & Honey Creamery. The building looks like a tiny purple house with a yellow door, and inside you'll find purple walls and colorful artwork. Grab a cone and walk around town, or sit outside on the bright yellow table and chairs.
Chase waterfalls
There are several awesome waterfalls all very close to each other in Ironwood. You'll likely have difficulty finding an address to put into your GPS, and reception on this stretch of the road is pretty poor. Just head North on Black River Harbor Parkway towards Lake Superior and you'll find the way. The parking lots for all of the waterfalls are clearly marked from the road.
Great Conglomerate Falls: Great Conglomerate Falls is the first one you'll see, and it's a .75-mile walk from the parking lot. It's a gradual decline on the way down to the falls and it's heavily wooded. I loved this quiet, serene walk.
Gorge and Potawatomi Falls: This parking lot has access to two waterfalls, Potawatomi and Gorge. When I visited in August 2021, Gorge Falls was closed, so we only saw Potawatomi. From the parking lot, the falls are just 600 feet away. For the best views of the falls, you'll want to walk down the stairs and meander along the path a little further than the initial lookout point.
Sandstone Falls: Walk for just .25 miles and be rewarded with what is my favorite waterfall on this stretch. Know that it's not an easy .25 miles though! It's almost entirely downstairs, and of course upstairs when you're heading back to the parking lot. My legs were shaking by the end, but it's worth it because you can get much closer to this waterfall compared to the other falls in the area.
Rainbow Falls: Continue down the road towards Lake Superior to the final waterfall. Walk for just .5 miles for an excellent view of Rainbow Falls. This one spirals down before crashing into the river below.
Finish at Black River Harbor: After hiking up and down steep inclines to all of the waterfalls, there is no better way to reward yourself than a relaxing stroll along the beach. Skip rocks on Lake Superior, wade into the water or find cool rocks to take home with you. The water is unbelievably clear, and the sandy beach is perfect for laying down and relaxing. Many dogs were swimming and having a great time when we were there. It felt so refreshing to take my hiking boots off and wade into the water.
Where we stayed in Ironwood
As I mentioned about northern Wisconsin, one of the challenges I found while planning the trip is that there aren't a ton of lodging options in this region. There aren't many Hiltons or Marriotts or even cute Airbnbs, so options are a bit limited.
We ended up staying at Rodeway Inn. It was very inexpensive and located just a short drive from town. They offer free breakfast and dogs are allowed. My room was dirty, however, and it was very difficult to get a hold of the front desk leading up to my trip. Their phone was dead and their emails bounced back for weeks. I later found out they've recently been bought by another company, so perhaps it will be cleaner and easier to get a hold of them in the future.
That being said, we were searching for a low-budget option and there are a handful of other great options in Ironwood. The Ironwood tourism website lists out a bunch of other options. Some of them are a bit more expensive than the Rodeway Inn because they have much nicer amenities. It just all depends on your needs and preferences.
It's a beautiful region during any season
Vilas County in northern Wisconsin and Ironwood, Michigan are really incredible parts of the Midwest. With really cute towns, tons of shops, boutiques, restaurants, breweries, and beautiful hiking trails and waterfalls, this is a great place to visit any time of the year! For more inspiration, check out the Vilas County and Ironwood tourism websites.
Looking for more inspiration? Check out my blog post on Bayfield and the Apostle Islands or Duluth, Minnesota.